If you are locked out of your home or business, you can count on Seacoast Lock & Safe. Getting locked out due to a missing key can be frustrating, which is why our professionals are ready to take care of any job. Our goal is to get you back in immediately and efficiently with no damage to your existing lock or door. If you can't get into a safe or car, our lockout services can help with that as well.
LOCKOUT SERVICES
Additionally, our lockout services are available for any machines or furniture you need help getting into. If you don't have a key to a file cabinet, chest, or lockbox, our team of expert locksmiths is here to help. At Seacoast Lock & Safe, we have seen it all, so do not hesitate to reach out and ask for lockout assistance with any equipment.
To book an appointment for any of our locksmith services, call us today at 603-436-4380.
WHY CHOOSE SEACOAST LOCK & SAFE?
Our 24/7 locksmith services are here to help you in Hampton, New Hampshire, when you need it the most. Our trained team has seen it all and wants to offer hassle- and worry-free services from start to finish. When you call Seacoast Lock & Safe, we show up and complete the job so that you can get inside your home or business sooner. Customer satisfaction is what we aim for, and we are here to offer any advice or recommendations along the way.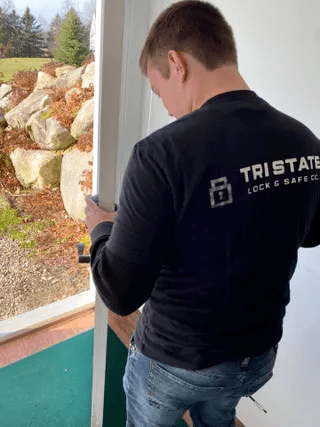 OUR INSURANCE COVERAGE
You will be pleased to know that we offer liability insurance which covers you in the event the company damages something or injures someone at the job site. We also offer automobile insurance on the vehicle our locksmith is driving.
You can request copies of certificates of insurance from your locksmith or the company that is providing their services at your home or business. If you need additional information about insurance coverage, call us!
Testimonials
SEE WHAT OUR SATISFIED CUSTOMERS HAVE TO SAY!
Evmccain
"Lost my only key to my motorcycle. Shelly at the Salisbury location was so incredibly helpful and friendly, and I can't recommend this place enough based on my experience. She worked with me all morning trying to solve my problem, calling me back several times and even texting me pictures to guide me through the process...all before she even had my money. Completely reasonable prices and outstanding service."
Betsi G.
"Needed a locksmith for a house lock today on an emergency basis - house frozen up and locked out. He came immediately and got us in and was most gracious about it. I don't know what the charges were cause someone else paid but whatever it was it was more than worth it. Also said if he couldn't pick the lock he could make a key based on a picture of the "real" one that was far away. Something to remember and a really nice guy!"