Seacoast Lock & Safe offers installation services and more for keyless lock systems for Hampton, NH's residential and commercial properties. With a keyless lock, you can enter your home or business without the hassle of a key.
KEYLESS LOCK INSTALLATION & SERVICING

A code or app on your smartphone is all you need to lock and unlock your door. Additionally, you can monitor usage and access your door from anywhere.
After the installation of a keyless entry smart lock for your home or business, our technicians can also provide any setup or servicing you may need.
Seacoast Lock & Safe offers a wide variety of keyless lock options, including smart locks compatible with multiple smart home devices such as Amazon Alexa, Samsung SmartThings, Amazon Key, Echo Plus, Nexia, and Ring Alarm, Wink, Google Assistant, Apple Homekit & Yonomi.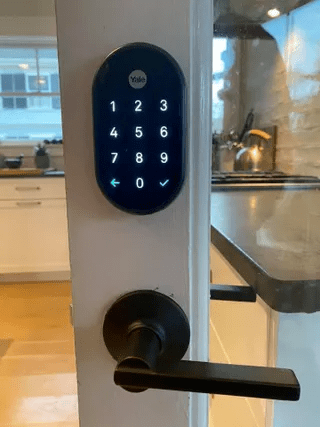 TRUSTED PROFESSIONALS
At Seacoast Lock & Safe, our expert locksmiths are fully trained and certified to handle any keyless lock job. When choosing our services, we want our customers to have peace of mind knowing they will be properly taken care of from start to finish. We understand that the installation and servicing of keyless locks can be tricky, which is why our team can educate and inform you about the process as well.
Testimonials
SEE WHAT OUR SATISFIED CUSTOMERS HAVE TO SAY!
Evmccain
"Lost my only key to my motorcycle. Shelly at the Salisbury location was so incredibly helpful and friendly, and I can't recommend this place enough based on my experience. She worked with me all morning trying to solve my problem, calling me back several times and even texting me pictures to guide me through the process...all before she even had my money. Completely reasonable prices and outstanding service."
Betsi G.
"Needed a locksmith for a house lock today on an emergency basis - house frozen up and locked out. He came immediately and got us in and was most gracious about it. I don't know what the charges were cause someone else paid but whatever it was it was more than worth it. Also said if he couldn't pick the lock he could make a key based on a picture of the "real" one that was far away. Something to remember and a really nice guy!"